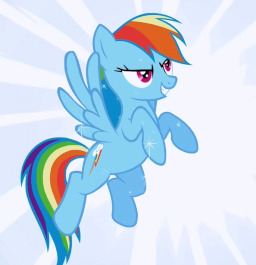 Source
This story is a sequel to the sequels to Would It Matter If I Was? It will make just as much sense* if you haven't read any of them.
* none
---
For the past few months, the newspapers and literary magazines of Equestria have been dominated by a hot new fiction fad: tales of friendship temporarily -- or permanently -- torn asunder by a thorny hypothetical question about Changelings.
Enter Rainbow Dash, the fearless high-flier whose past crimes against the written word were so awful Princess Twilight considered making them actual crimes simply to get out of proofreading them. On one unassuming night, Dash gathers her friends together to be the audience for her latest literary masterpiece, a short story about friendship and Changelings, written with all of her usual panache. She's absolutely convinced they'll fall to their knees in awe of her superb writing skills.
Her terrified friends get ready to fall to their knees and beg her to stop reading.
Chapters (1)