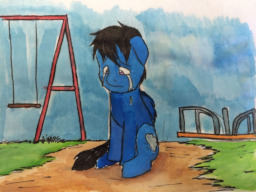 Sent to the corner three times in one week . . .
Despite getting his cutie mark, Stormy Knight isn't happy. He thought it would change things at school, but he's still made fun of, just for a different reason. Convinced that he's no good, cutie mark or no, he starts believing his own sad thoughts, and it makes him lash out, which only makes everypony at school believe what he believes.
That he's nothing but a bad colt who deserves it.
A sad little one-shot for the naughty kid in school, or the screw-up who never felt loved.
The dialogue without modifiers is more akin to memories than actual dialogue. Sort of like reflections. I hope that helps to clear up any confusion.
Special thanks to Sipioc for the amazing hand-drawn cover art!
Now with a beautiful reading by Midnight 23 and AJ the Autistic Pony!
Chapters (1)