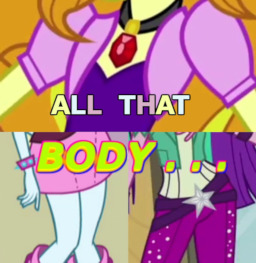 This story is a sequel to So Much Leg . . .
---
Hoofenmouth has tried to get better at talking to girls. And failed. He's tried to approach Sunset Shimmer. And failed. Now, today, he's gonna try again, prepared to go on with the rest of his day either way.
He's gonna fail.
All because of these three crazy beauties who somehow want his affections just to "reignite their lost powers." Hoofenmouth doesn't know what it means, or why they're targeting him, but they are relentless enough to hold him hostage and seduce him to make it work, and now Hoof has to keep himself together while hoping someone finds him, trying all the while not to "ignite" too soon.
Will he fail?
Most likely.
Once again rated "Teen" for some naughty thoughts and actions, and heavy, heavy implications of premature ejaculation and masturbating.
Chapters (1)