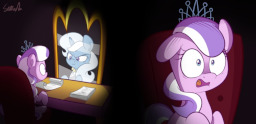 Source
This story is a sequel to Trixie's Gettin' Back On Her Hooves
---
"Good job, you really are a lot like I was when I was a kid. Keep up the good work. Some day you might be just like me."
When she first heard those words, Diamond Tiara was excited. A rich and powerful business pony said one day she could be just like her. What was not to like?
Then it all came crashing down as the insidious Checker Monarch's web of deception was pulled away, revealing a sociopathic monster willing to torment her own family if it got her what she wanted.
Not only did Diamond Tiara see a pony she admired fall from grace, she witnessed something far worse. Her potential future self. The monster she could be if nothing changed.
Can Diamond Tiara change the winds of fate and alter her future? Or will the nightmare the monstrous Checker Monarch unleashed be repeated?
A direct sequel to Trixie's Getting Back On Your Hooves, taking place next in line chronologically.
My Little Pony Belongs to Hasbro!
thanks to Alexwarlorn, birthright1979, and ItsfromPeople on DA for betaing!
Thanks to Slitherpon for the cover art!
Chapters (6)