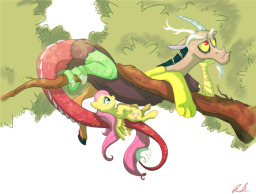 Source
Warning! Spoilers for "Keep Calm and Flutter On!"
Fluttershy managed to do the impossible. She's befriended Discord, the Spirit of Chaos, former evil overlord of Equestria and taught him that friendship is magic. However, in the aftermath of all this, the master of confusion finds himself completely baffled by one thing. One question that in his entire life he'd never desired to have an answer to; why? Why after so many eons, was friendship important to him?
My Little Pony Belongs to Hasbro.
Preview pic by C-Puff on Deviantart!
Chapters (1)