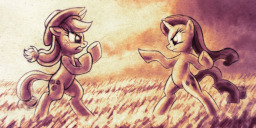 Source
Rarity and Applejack find themselves placed against each other during a charity exhibition fight. Applejack worries her friend may be a little bit in over her head.
Set during season 2, before the finale, but after Last Round Up.
Commissioned by Alexwarlorn!
My Little Pony belongs to Hasbro!
Cover Art thanks to Kp-Shadowsquirrel!
Chapters (1)