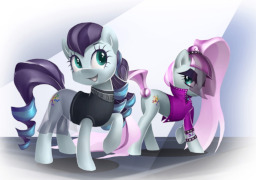 Source
Featured 5/22/2016!
Rara, formally known as Countess Coloratura, has shed the mask she wore thanks to her selfish manager. She's got a new manager and new life...but when a pair of classical musicians ask her to speak to their daughter they believe may have gone through the same situation that she was, she might find out there are things she wasn't expecting.
Commissioned by Alexwarlorn!
My Little Pony belongs to Hasbro!
Cover Pic thanks to imDRUNKonTEA: !
Chapters (1)