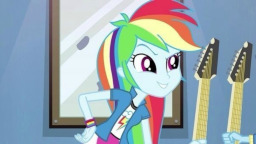 This story is a sequel to 'Cause I Like You, Silly!
---
You call each other names. You're always showing off your skills to one another. She'll poke fun at you, but you poke right back. But that's just a part of the game to see whose feelings will cave first. Once things get a little too heated on the soccer pitch, Dash will start boiling, and that's never a good sign. When Dash finally confronts you, though, you'll know exactly how "hot" she can get . . .
The fourth installment of "The Steam Collection". Second-person present-tense perspective set in the EG universe. Rated 'Teen' for some sexy, steamy moments.
Featured on:
7/20/2015
7/21/2015
7/22/2015
Chapters (1)