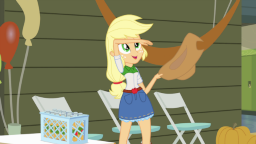 This story is a sequel to GOAL!
---
After fouling up an attempt to ask Applejack out, you try the next best thing to get her attention: offering to fill a position as a farm hand on Sweet Apple Acres. While not your initial intention, you decide to make the most of it while you can, and use this opportunity to show off for the girl of your dreams. Over time, your attempts at work aren't spectacular, but they do more than impress Applejack. In fact, you two may just spark a tight, emotional—and maybe even sensual—bond . . . .
The fifth installment of "The Steam Collection". Second-person present-tense perspective set in the EG universe. Rated 'Teen' for some sexy, steamy moments.
Featured on:
8/30/2015
Chapters (2)