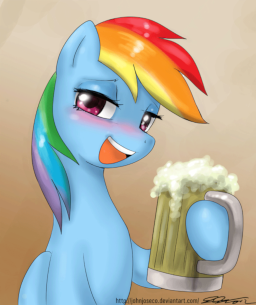 Source
You are a human, Anonymous, that has lived in Equestria for two years. After a Hearth's Warming Eve spent together, Anonymous goes through a revolutionary phase when he realizes that Rainbow Dash, his closest friend in this world, has been harboring feelings for him that he never even noticed. How did he never notice? Why him, and not a stallion? Is he some kind of xenophiliac deep down?
Rated for language, along with various sexual-themed exploits. But no sex. Because sex with pastel-colored horses shouldn't be posted on websites that are meant to be browsed by anyone who can click a check box on a dropdown list used by anyone browsing a website. Or at least made to be more secure than that. Because really, who would want to read something like that?
This story has been modified from its original version. It has been formatted to fit the prose-reading mind.
Links to Commando Pony's reading:
Chapters 1-4
Chapters 5-8
UPDATE! The original version of this story was recently added to the /mlp/ collaboration of "Tales To Fap Too - Volume #3". You can purchase the paperback version here (all proceeds go to charity):
Link to paperback version
Again, it is the unedited version, so you'll be reading it in full 4chan greentext format. Also, you'll get spoilers. Spoilers everywhere.
Chapters (12)