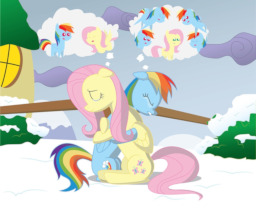 After Fluttershy finally blows up in her face, a genuinely confused Rainbow Dash has a discussion with Twilight Sparkle, concerning the events leading up to it. Twilight confronts Rainbow Dash with quite a number of occasions that prove that Rainbow Dash isn't quite as considerate of her friends as she thought—and Fluttershy isn't always as willing to please as she seems. But Dash truly is a good friend, and as long as she remembers her friend's feelings, it might not be too late for Rainbow Dash to patch things up.
Partially inspired by Jay-The-Brony's "...That's It?"
Now with amazing artwork by JohnDarkblaze15!
Featured on 1/24/2016!
Chapters (1)