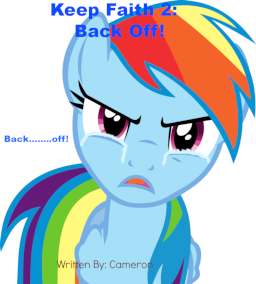 When Rainbow Dash decides to pick up Scootaloo and hang out with her for birthday, she runs into something else. This incident leads Rainbow Dash to saving the filly.
Requested By: JourneyCatMLP
Inspired by the song: Metal Core Pony- Keep Faith
WARNING! Song contains screaming. If it's not your cup of tea, don't sip it. But if you're gonna try anyway, would you like a lump of sugar or two?
This is a sequel to: Keep Faith
I found a random image of Rainbow Dash and added my own little additions to it. I do not give or take credit for the image, nor, do I take any credit for the last image that I used for "Keep Faith."
Chapters (1)