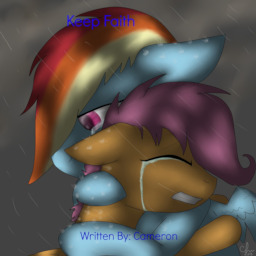 Some days are tough, others are tougher. For Scootaloo, this is a tougher day. Sticks and stones can break bones, but words always kill me. Especially, when they make you feel worthless and pathetic. Once her favorite idol hears about this, Rainbow Dash is determined to help her out.
You'll be okay, I promise.
Inspired by a song called "Keep Faith." WARNING! The song contains screaming. So if it's not your cup of tea, don't try it. But if you wanna give it a try anyway, don't say I didn't warn ya.
I randomly found the image on the internet and added my own little additions to it. I do not take credit for it. At all. But here's the link that was kindly given to me for this artist: Where's that bloody link. It's gotta be somewhere. I just wonder where it is. Oh wait! There it is!
Chapters (2)