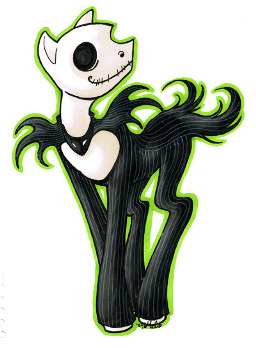 Source
Note: Not a Nightmare before Christmas crossover, the character is simply based off of Jack Skellington. ALSO, THIS IN AN ANTHRO FIC SO STOP ASKING ME WHY THEY HAVE HANDS AND HOOVES. iF YOU DON'T KNOW WHAT AN ANTHRO IS, LOOK IT UP ON GOOGLE IMAGES.
A tomb stone, the first thing I see.
The carvings are corroded away, unlike me.
I can't remember who I am.
I don't even know what I am.
All I know is that apart from me,
There are little coloured ponies in a group of three.
One of which, if I had one catches my eye.
Two of them leave and she's left to cry.
What can a guy do, but to go up and say:
Hello, young one, would you like to play?
::Featured - 25/7/2013::
Chapters (6)