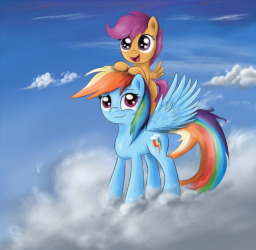 This story is a sequel to "I'm Tired Of All This"
---
Alternate title: Titles Are Hard. It's been a week since Rainbow Dash saved Scootaloo after she jumped in to Ghastly Gorge and Rainbow Dash is keen for her to go back to school, as well as make good on a promise. What happens though when despite her best efforts, the little filly still can't fly?
You call in the one guy who can make any filly fly.
This story is a direct sequel to my story "I'm Tired Of All This" and you really should read that story first. An OC will be introduced later in the story. Here's hoping I don't get torn to pieces for that! Alternate universe tag thrown on to be safe because this fic totally disregards the events of S3, most notably Sleepless In Ponyville and Magical Mystery Cure.
An audio recording of this, and the prequel story, is being done by Shimmering Honor and can be found on this youtube channel. Finally, this fic now has a sequel that can be found here.
Chapters (93)