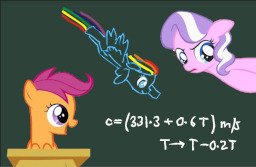 This story is a sequel to The Art of Rainbow Engineering
---
Following Twilight Sparkle's explanation of the scientific method, Diamond Tiara asserts that the sonic rainboom is a scientific phenomenon. Scootaloo insists it is magic. The Ponyville schoolhouse is the scene for an unprecedented intellectual dispute.
It's a sonic rainboom. How not scientific could it possibly not be?
A side story to The Art of Rainbow Engineering - you don't need to read that first.
Chapters (1)