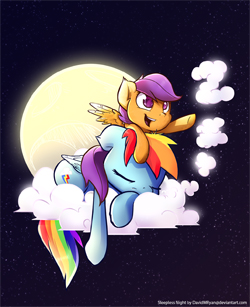 Source
Guardians come in many colours and personalities, protecting others or misusing their power. Rainbow Dash is just one of them. As she encounters her favourite filly Scootaloo alone after dark, she soon finds herself tangled up in a complicated network of protégés and presumed protectors, both from the present and the past.
VoxelTron has started a reading of this one. Check it out! click
Proofreader(s): twilight-the-pony (also The11thWonder, Nonagon )
Sequel: Lonely Mountains
Trigger Warning: non-descriptive (sexual) abuse of a minor
Rated Teen for adult themes and violence.
The events are set somewhere after Sleepless in Ponyville, but before the coronation.
This is my very first fanfiction (in the hope that this doesn't scare you of).
Image by DavidMRyan
Chapters (22)