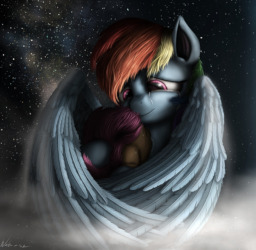 Source
Cover art by Neko-Me!
Rainbow Dash promised to take the rambunctious Scootaloo under her wing on the whim of pride. However, when Scootaloo's repressed emotions come to surface, Dash finds there's more to the little filly than fun and flight training. Can Dash master her own insecurities as she struggles in expanding her comfort zone to give Scootaloo what she really needs? Will she accept the responsibilities to a much deeper meaning with the title of Big Sister?
Dedicated to DawnFade who inspired, through elegant prose, a shattered writer to follow his dreams once again.
And to my daughter Ella, who is a wonderful big sister, but really needs a big sister herself sometimes.
Edited by Unknownlight
Pre-read by MasterLuke07
Chapters (6)