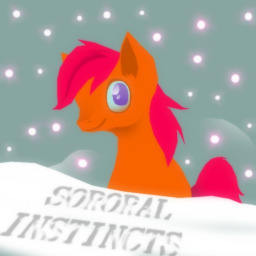 Rainbow Dash and Pinkie Pie have always been considered free spirits. Rainbow herself could never have thought she'd ever reanalyze her entire life for the sake of one person. But when she and Pinkie are put in charge of caring for a young sickly friend during the course of a legendary icestorm, the two learn quite a bit about self-sacrifice and growing up. Also there is a tortoise.
Not featured on equestria daily! (that place scares me kinda)
This story features your daily allotment of: sad things, happy things, and sappy things!
Authors Note:
I have the educational level of a kindergartner so if the story is kinda iffy you can blame the public education system! Hooray! In all seriousness I just wanted to write something cute.
edit:
the illustrations were sketches by me that were inked and colored by a friend who wishes, at the moment, to remain Anonymous. (bronies scare him).
Chapters (16)