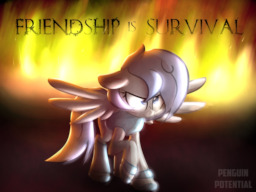 Frigid Drift is an OC by http://darkpengi.deviantart.com/
and cover art also belongs to http://darkpengi.deviantart.com/
Visit the tumblr for Frigid: ask-frigiddrift.tumblr.com!
Frigid Drift had always been a pony that kept to herself. She had only ever come out of her shell when trying to stalk her favorite pegasus Rainbow Dash or when working in her job on the winter weather team. But when she decides to answer the call of duty in the Equestrian Air Corps, she is thrown into an adventure that would change her life forever. But will she learn the importance of friendship and an open mind the easy way or the hard way?
I do not own My Little Pony Friendship is Magic or any of the characters depicted in the show.
Chapters (12)