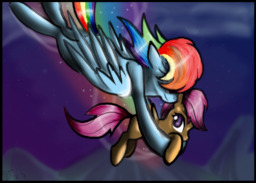 Source
This story is a sequel to Working Towards The Future
---
This story follows up where Working Towards The Future left off. You should really read that story, and the first story "I'm Tired Of All This" before reading this. In fact, this description spoils those stories! So stop reading this and go read those.
It's been three weeks since the events of Working Towards The Future. Scootaloo is happy with Rainbow Dash and better yet, it's the day that Star Shine returns from Canterlot. Someone else who's just as important was also on that train. He's not too happy that the bane of his existence is still alive when he spent years thinking she was dead.
He's quite happy he can get his revenge though.
Rated teen for language and violence. At least one of them should happen. Tagged romance to be safe. Mild shipping may or may not occur. Also tagged Alternate Universe because, like the two stories before it, this fic totally disregards Season 3. It's set between S2 and S3.
Chapters (10)