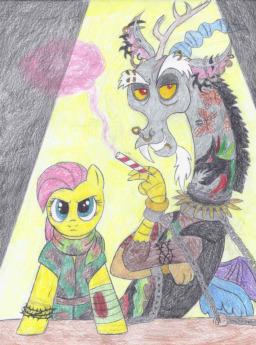 Source
This story is a sequel to The Ponies who Played with Fire
---
Warning: Some comments may contain spoilers
After being injured during the events of The Ponies who Played with Fire, a now-captive Discord is awaiting trial for murder, while Fluttershy and her small band of allies are facing possible enemies on every side in their desperate struggle both to clear Discord's name and avoid their own capture.
AU Fluttercord set eleven years after the first three seasons minus the Discord episodes. Inspired by Discord and Fluttershy's relationship both in the show and several fanfics (*cough* Bride of Discord *cough*) Based loosely on the plot from "The Girl who Kicked the Hornets' Nest" by Stieg Larsson. Rated T for some plot-related Murder Mystery Elements.
Edited by Nightwalker
Constructive Criticism is welcome.
Cover art belongs to me so please do not take without permission. Thank you.
Chapters (10)