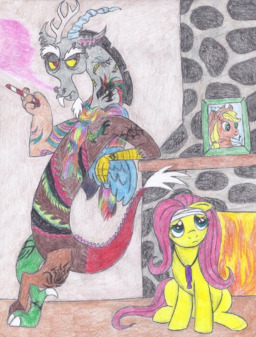 WARNING: Some comments may contain spoilers.
Ten years ago Applejack disappeared without a trace. Now Fluttershy must find out why, but will that be possible when she's thrown together with a pierced, tattooed, reality-bending draconequus who's just recently escaped being trapped in stone?
AU Fluttercord set 10 years after the first three seasons (minus the Discord episodes.) Inspired by Fluttershy and Discord's relationship both in the show and in several fanfics (*cough* Bride of Discord *cough*), and based loosely (extremely loosely) on the plot from the Stieg Larsson novel "The Girl with the Dragon Tattoo." Contains some Murder Mystery elements so is rated T just to be safe.
Constructive Criticism is welcome.
See Nightwalker's thoughts on the story.
[img]http://s13.postimg.org/5a2dthj87/Giz_Vyc0.png[/img]
Cover art belongs to me so please do not take without permission, thank you.
Chapters (20)