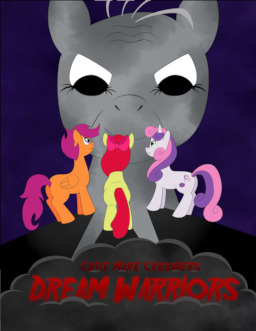 Source
This story is a sequel to Dear Scootaloo
---
The Cutie Mark Crusaders are growing up. Their days are spent dealing with the usual gamut of problems facing fillies on the cusp of marehood; school, boys, nightmares...
Oh, yes. They've been having the most dreadful nightmares. Nightmares about an old stallion everyone thought was dead. It seems this ghost from their collective past has found a way back and has one thing on his mind; revenge.
Only with the help of a certain Princess of the Night can the three friends become what they need to be to destroy the evil that's haunted them once and for all; CUTIE MARK CRUSADERS DREAM WARRIORS!
A Halloween Epilogue to the 'Dear CMC' Trilogy ('Dear Sweetie Belle', 'Dear Applebloom', 'Dear Scootaloo')
Inspired by the slasher classic 'A Nightmare on Elm Street Part 3: Dream Warriors.'
Cover art by the incomparable Swirling Line
Chapters (1)