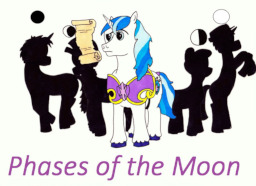 Source
This story is a sequel to Lost in the Night
---
"I've always had only one. I've mourned them each in turn... as I will one day mourn you, my brave Captain."
Princess Luna's words have driven Shining Armor mad ever since she first uttered them when their affair began. Who were these past lovers? How did they come to be consorts to the Princess of the Night?
Shining Armor's quest for the answers leads him deep into the bowels Canterlot Castle and into the mysterious Archives of Truth. There, guided by a mysterious librarian called Brother Veritas, Shining Armor will uncover much more than he was ever expecting; hidden histories and origins, ancient conspiracies, and secrets that could very well change Equestria forever.
Special Thanks to DrTechno for the cover art.
Chapters (6)