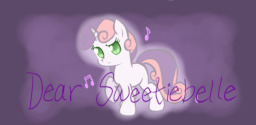 Source
After an accident robs them of their parents, Rarity writes Sweetie Belle a letter laying bare a secret kept all the little unicorn's life.
"It's fascinating the level of depth this story takes. Just the part alone about why Rarity represents generosity is enough to bring tears to even the toughest critics. This is an amazing story in every way. Mature in some of its themes and true to life, yet not graphic or exploitive, 'Dear Sweetie Belle' is a must for My Little Pony fans who need a great, sad story to tide them over."
-Obake, Pony Fiction Archive
Beautiful cover-art by AcrylicDawn
A fantastic bit of fan-art from my dear friend Kaitlyn Warner.
A live reading by the Doom Pie Network Right Here
Chapters (1)