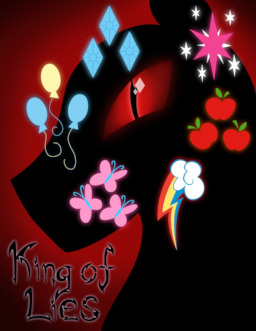 Source
This story is a sequel to The Sin of Envy, or a Mother's Love
---
It is said that when a great sin is committed, the Devil comes calling. This time, the Devil has been drawn to Equestria and he calls himself Belial. The pure souls of the Equestrians are what he desires... but he is nothing if not a good sport.
He will give their heroes a chance to save them.
He offers the Mane 6 the chance to play a game. Each will be tested with a vision of the future. Some visions are truth. Some visions are lies.
If all see true, then Equestria is spared.
If even one fails... then all belongs to the King of Lies.
Cover art by the incomparable Swirling Line.
Chapters (8)