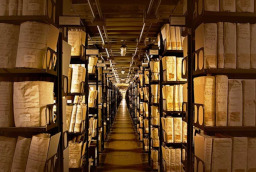 Source
To whom it may concern,
Since the unfortunate destruction of the Archives of Truth, the idea of being the sole repository of the greatest and darkest secrets in the history of Equestria has not been sitting well with me. With that in mind, I've decided to begin putting down the various bits of history that come to mind so that there will be some tangible piece of what the Archives once were.
From time to time, I will put down the stories, poems, and historical texts accumulated over the millenia so that anyone who seeks to find them will be able to. But for those who seek the truth, allow me to offer the warning that once adorned the archway leading into the Archives;
You will find the answers, or the answers will find you.
-Brother Veritas, former curator of the Archives of Truth.
Chapters (3)