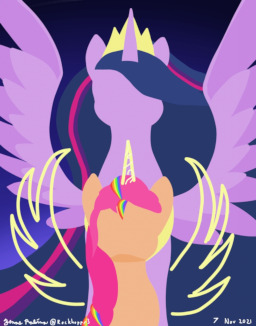 Source
Sunny Starscout has set out on the path of reunifying Equestria. She's found a circle of friends, showed the tribes that they can co-exist, and even restored magic to the land.
Yet, there are questions that remained unanswered. What led to the breaking of the tribes in the first place? How did things go so very wrong? And just what is the best path forward in undoing centuries upon centuries of damage?
Sunny seeks the answers from those who came before, but has failed to consider the age-old adage; be careful what questions you ask...
...because you may not like the answers.
////////////////////////////////
Cover art borrowed from rockhoppr3
Chapters (1)