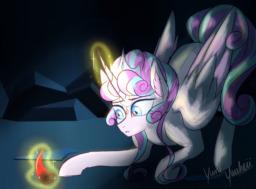 Source
While strolling the boundaries of the Crystal Empire on a snowy Hearth's Warming, young Princess Flurry Heart comes across a relic long thought lost. Touching it brings an encounter with a dark spirit from the past.
Now, here they are, face to face; two rulers of the Crystal Empire, one of the past, the other of the future.
Will the cold dead heart of the King of Shadows corrupt the Princess of Peace?
Or will a miracle come to pass on this most blessed of holidays?
/////////////////////////////////////////////////
Written for Frazzle2Dazzle for Jinglemas 2021, whose request was "Sombra and Flurry Heart, with the hope of no romance between them." Merry Christmas, buddy. Hope this is in that wheelhouse.
Cover art borrowed from yumeyuuheii.
Chapters (1)