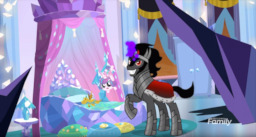 This story is a sequel to Regrets...
---
I was just another palace servant, but the sight of King Sombra holding the Crystal Princess Flurry Heart suspended in his magic over her little crib was too much to bear! Her huge eyes were wide with fear, wings flapping helplessly, her entire being pleading with me to rescue her...
This is another in the "what if" series I started with the story "Regrets". Both tales are inspired from previews of the upcoming Series Finale of MLP:FIM. There is so much we don't know about what happens to Flurry Heart at this moment in the cover shot released last week. That naturally breeds enough alternate universe theories to fill its own universe. This is one of them. Enjoy!
Chapters (1)