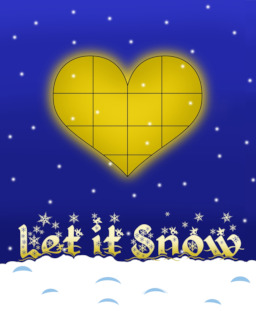 Source
This story is a sequel to Morning Glory
---
Several sweet and romantic drabbles set on one snowy Hearth's Warming Eve in Ponyville.
-'I've Got My Love to Keep Me Warm,' in which Macintosh and Fluttershy spend their first Hearth's Warming as husband and wife stretched out by the fire. There seems to be something on Fluttershy's mind.
-'Baby, It's Cold Outside,' in which Applejack and Rainbow Dash find themselves snowed in at Fluttershy's old cottage with nothing but each other and a mysterious bottle for company.
-'Santa Baby,' in which Spike seeks to prove to Rarity that Santa Hooves is real... no matter what it takes.
-'I Believe in Santa Hooves,' in which one little filly gets a visit from the pony she misses the most.
Short and sweet, these tales are my gift to all who read my stories.
Chapters (6)