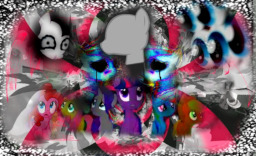 The many stories known as "creepypastas" are much like campfire stories - stories spread around that are meant to scare. But what if those stories turned out to be true?
And worse still, what if you had to experience them?
The denizens of Equestria find themselves trapped in a dangerous game at the will of the Iridescents, color-shifting ponies who are the primary hosts in a hub of these stories turned fact. In order for the Equestrian residents to safely return home, they are forced to traverse and survive several levels of these urban legends, all the while attempting to seek out what are known as Slender Notes, attributed to the infamous legend of Slender Pony. But in a plethora of worlds such as those the legends bring, survival is never guaranteed.
Can the residents of Equestria make it through the various tales that await them as they play through the Iridescents' trials? Who will survive, who will perish, and who will meet a fate worse than death? And what purpose do the Iridescents and their assistants really serve in the Hubworld?
All creepypastas involved belong to their respective owners.
Rated Teen for the potential scare level of the creepypastas, and the gore tag added for stories like Abandoned by Disney and The Russian Sleep Experiment (will try to tone down RSE enough so that it won't go Mature though).
IMPORTANT NOTE: Pony-based grimdark fics, as entertaining as they are, will NOT be included here as story worlds. They are not creepypastas, and I don't get at all why people tend to think they are. Since they take place in the universe of Friendship is Magic itself, I may give a mention to them, but they will not be worlds that the participants enter and are forced to go through, due to their setting and characters involved, and them not even being creepypastas anyway.
Chapters (8)