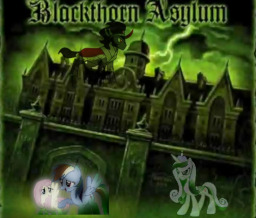 A decrepit asylum, once a place for those deemed to be insane, stands from a time where the Shadow King and Crystal Princess ruled over its halls. To an outsider in the current age, the forest where it resides is empty, and a gloomy silence is all that remains of the asylum's once horrific past.
But when a bet drives Rainbow Dash and Fluttershy to investigate the asylum, they learn that the edifice isn't as abandoned as they thought. Trapped within the asylum frozen in time, the pair must enlist help from other inmates to escape before they fall prey to insanity and the rumored curse upon the inhabitants.
First of the Arcane Night Series, a planned group of stories inspired by Nox Arcana albums and comments. Based off of the Youtube RP on the Nox Arcana album, "Blackthorn Asylum"
Chapters (2)