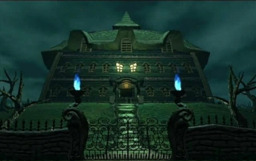 Source
A long time ago, a whole manor, and everypony inside it, mysteriously disappeared without leaving any trace.
But it reappeared at the edge of the Everfree Forest, and Twilight decided to go investigate followed by her friends, only to not come back. Worried, and not wanting to miss an occasion to get their Cutie Masks, the Cutie Mark Crusaders entered the manor at the start of the night, only for two of them to be foalnapped by ghosts, and for the third to barely escape with the help of an old stallion.
Now armed with the Poltergust, a powerful tool to capture ghosts, Apple Bloom returns in the manor, ready to save everypony, even if she has to fight every ghosts in this manor.
A long night of terror starts for her.
---
Happens between season 2 and season 3. Also possesses some Dark and Drama
Chapters (7)