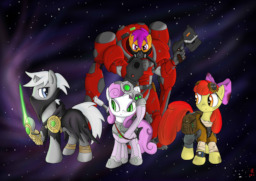 Four hundred years ago, an alien warp gate was discovered that connected Equestria to the Koprulu sector. A deserted sector of spaced filled with centuries worth of abandoned alien technology. That technology advanced Equestrian civilization hundreds of years into the future. One hundred years after its opening, that warp gate would close, trapping many citizens of Equestria on the other side. Cut off from their ancestral homeland, their descendants have grown up to a life filled with war and chaos, fought using technology never meant for pony kind.
On a quiet little colony, three young mares enjoyed a relatively happy childhood. During one of their usual friendly outings, they make a discovery that will change their lives forever. Their peaceful childhood comes to an end as the now adult cutie mark crusaders are about to find out just how hard life in this sector of space can be.
Additional lore on the factions can be found here if you are interested.
Cover Art and Chapter Art by Rametep. You can find his gallery here.
Warning, spoilers in comments You've been warned.
Chapters (69)