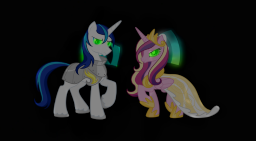 Queen Chrysalis and King Metamorphosis are two ruling changelings from two separate Hives, each one having a certain enmity toward one another due to events in their past. When they separately learn of the wedding between Princess Cadance and Shining Armor, they plan to ruin it by taking the places of the ponies to be wed. However, they are completely unaware of each other's involvement or intent.
With both putting on a deceptive act toward one another, what happens when the deceivers are unknowingly deceived themselves? And can Shining and Cadance, each believing they must save one another from a fake, be reunited, or will they fall prey to the entrapment of the changelings?
An alternate storyline to A Canterlot Wedding.
Dedicated to Victor Frost, for without his Colt Version of "This Day Aria", I might never have come up with this.
Chapters (7)