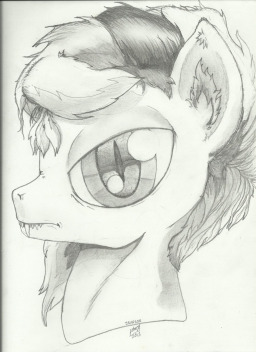 The queen has fallen. Her kingdom has splintered. The failure at Canterlot, however, did not begin her downfall.
It was the son she bore. Called by changelings a Halfling, his blood mixed with the blood of ponies has him marked as an abominition in the eyes of the most conservative of changelings. Fearing change and what a mixed breed foal might mean, the Royal caste collaborated with members of the Religious caste to declare the queen and her child outcast from changeling society, effectively stripping her of her title and the authority with it. With her kingdom in a state of civil war, the fleeing former queen does the unexpected and sets her sights upon the Crystal Empire for refuge.
With a small group of loyal followers, she made her way to the north, into the Everwinter Storm where the Crystal Empire awaited. There, a changeling priestess offers refuge and Sanctuary on holy ground. There, the queen might be able to secure a refuge for her son. Perhaps his father would be keen to take him in while she set about the business of righting the wrongs against her.
Vengeance, but only after her son is seen to a safe and secure environment.
But why let him be raised by prey?
MLP:FiM is owned by Hasbro.
MLP:FiM was created by Lauren Faust.
All OC's are mine unless specified.
This story is not canon past season 3.
Chrysalis' name from the show will not be used as her real name, but as the code name given to her by the ponies for investigative purposes.
Featured?!?!
You guys are awesome. Thank you!
Chapters (27)