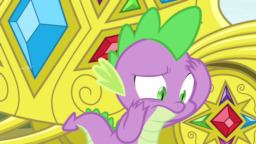 Source
This story is a sequel to Deserts and Dragons
---
Twilight Sparkle has given Spike the week off, and the timing couldn't be more perfect. He and Big Macintosh have just been invited out to Appleoosa to take part in a sacred buffalo tradition known as the Dragon Dance Festival. True, Spike hasn't had the best track record interacting with other dragons, but he simply can't say no to a week full of pampering, respect, and all the topaz he can eat.
Alas, poor Spike can't seem to get a break; not even on his vacation. A band of nefarious dragon poachers crash the party and make off with some of the more prestigious guests. Bound by his Noble Dragon Code, Spike coerces himself into mounting a rescue along with the Apple Family. But they won't be going it alone. A ragtag gang of semi-virtuous dragon bandits want in on the action, as they've been tracking these poachers for a while now. What's more, Little Strongheart was hoping that Spike could educate these ne'er-do-wells about how to be proper, noble dragons. It doesn't help that their leader is a cute young female about Spike's age, nor does the fact that she already has another guy fawning over her.
So, to recap. Spike must help kin that he doesn't identify with and show them how to be noble like he is, all while taking care not to create a love triangle in the process. Um, yeah. No pressure or anything.
Part II of the Ballad of Needles.
Chapters (15)