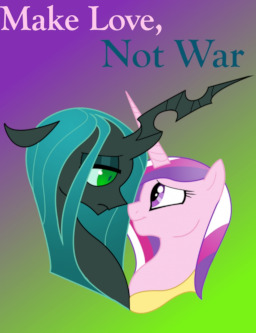 The war against Sombra has left Queen Chrysalis's hive starved of pony love. As a desperate act, she braves the icy Frozen Wastes to find the Crystal Empire, said to be protected by the power of love itself...
Princess Cadance finds herself at the helm of an empire in shambles and with little experience to guide it. Things change when she learns of a pony rescued from the Frozen Wastes...
A story of worlds colliding and love blooming.
---
Written in the Postwar Timeline Alternate Universe.
Cover art made with art by lopoddity.
---
Chapter 1 submitted for Right Back At It Again 2020 Shipping Contest.
---
Proofreading/Editing Credits:
Chapter 1: wishcometrue.
Chapters (2)