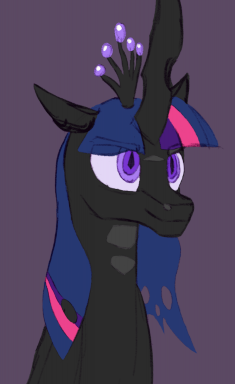 Source
Hello, my name is Twilight Sparkle. My brothers are Shining Armor, captain of the Royal Guard, and a dragon named Spike that I hatched when I was little. I have five friends that help me wield the Elements of Harmony, artifacts that protect Equestria from evil. I have a few other friends that are less important, but still great ponies nonetheless.
One catch, though. I am also a changeling Queen, and the friends and family I just mentioned are all my subjects, and children as well. They don't even know it, but everything's working out alright, so no reason to tell them! After all, it's not like a giant wave of love energy could suddenly reveal all the changelings in Canterlot, right? Right?
---
Part 1, Revelation: Twilight Sparkle meets an old enemy that reveals a secret she's kept since she was named.
Part 2, Recollection: The Elements of Harmony try to get to the truth of the matter, changeling Queens begin their game of chess, Queen Citlali takes her Hive and runs from Canterlot.
Part 3, Reformation: Queen Citlali begins to grow her hive, Whitetail Hive takes some time to get used to the news, Princess Cadance dreams of a dark creature.
---
May 11-15, 2017: Featured for the maximum time... whoa.
Chapters (17)