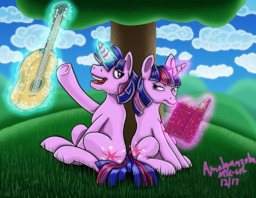 Source
After being dragged into a Pinkie Pie party, gathering the Elements of Harmony, and facing off against Nightmare Moon, Twilight Sparkle just wants a good nights sleep. Unfortunately for her, she lives in Ponyville, and somepony just crashed into her bedroom. Somepony that looks unusually like her... albeit more stallion-ish.
This stallion, Dusk Shine, claims to be an older version of Twilight, from an alternate universe. How come he's so different? Twilight never graduated from Princess Celestia's tutorage or learned to play the guitar, or... befriended her monstrous, demonic self?
---
Cover art by the wonderful Mix-Up!
Chapters (5)