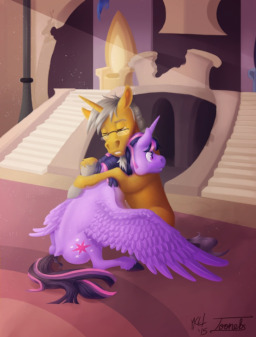 Featured August 16, 2015 on Equestria Daily!
Twilight could not have been more ecstatic to have a magic student of her own. Not only was Entropy kind, but he completely understood and even shared her love of learning. An entire month working alongside him was a dream come true. But when admiration turns into something else, she may be unprepared for the consequences.
Discord despises the thought of an entire month as a pony. No chaos magic, and he has to keep his true identity a secret. Stuck with the insufferable know it all Twilight Sparkle was a fate worse than death. Or was it? As time passes, the once tiresome mare had become almost pleasant to be around. Could he actually be falling for her?
[AU for excessive headcanon that doesn't quite jive with canon]
---
Cover by the ever-talented CarniverousCaribou and colored by my friend Toonebs.
---
The entire story takes place in my own universe and continues the summer after What Changes May Come ends. Elements from that story as well as my parallel fic An Honest Life are included here. There is no need to read either to enjoy this one, though I encourage you to check them out. Essentially the events are canon until the middle of season 4.
This is one story I never thought I would be able to write. I had been wanting to compose a Twicord fic, but had no idea how to get a good setup. The idea for this fic came from SageBrony07 who's also been instrumental in the idea for many of the chapters.
I can't say thank you enough to Nomad_Sigma as well. He's been such a big help with the last leg of the story, editing my ramblings along with being the best idea man a girl could ask for!
Prereading for certain chapters provided by Nomad_Sigma and SageBrony07. Proofreading by
Smaug the golden, TemplarBrony, The Forgotten Comrade, and viewers like you.
It takes an army, that's all I've got to say.

Chapters (20)