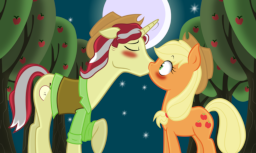 This story is a sequel to The Mess We're In
---
---
Flim was never one to argue with Flam. In fact, if the situation had been any different, they might have been able to work it out. But, fate being the fickle thing that it is had other plans. After a heated fight, they split up. There was no going back, the bridge was burned and the damage done.
It soon becomes apparent that things are never as easy as they seem. Several failed attempts later, Flim is out of energy and ideas. Just when he's about to give up, a chance encounter with Applejack changes everything. Working beside the Element of Honesty was the opportunity he needed. If he could prove his sincerity to her, then nopony would question his desire for an honest life. But, as the days drag on, he realizes a truth that may just jeopardize everything. How can he prove his sincerity when he must constantly hide the truth?
---
Cover is fanart from Kell95 on deviantart. Thanks so much! It's wonderful.

---
This one has been a long time coming. An Honest Life takes place in the same universe as my long running story, What Changes May Come and runs parallel to This Cruel and Random World. There are some aspects from those stories in this one, but there's no need to read either to enjoy this one. Essentially the events are cannon until the middle of season 4.
Prereading by Asher-N-Hunt-Editin, SageBrony07, and Nomad_Sigma. Cover art by me. This story would not have been possible without wonderful advice from SageBrony07. I can't thank them enough for their time and effort on this story.
Chapters (14)