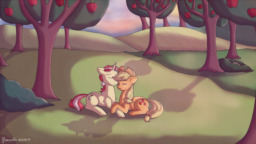 Source
Applejack was a bit hesitant and confused when the no good conman, Flim, appeared at her front door, asking for advice. Naturally, she turned away from him, still bitter about everything he has done to her family and friends in the past.
As days go by, however, Applejack comes to terms with Flim. And, she quickly realizes that just like ponies can change, hearts can change, too.
---
This story is a side story to Chosen Love. Consequently, there are some spoilers for that story.
Sex tag is for a few innuendos.
Cover art made by floravola on DeviantArt, commissioned by HolyCross9!
Chapters (14)