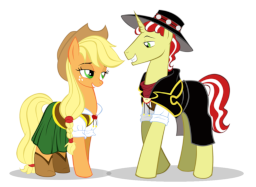 Source
When you have a reputation to be a liar, it isn't easy to win back the trust of others.
Especially when "Others" means the element of honesty.
Resisting the temptation to lie again and sell another product hoax, the Flim Flam brothers decide to go back to Ponyville and make a fair living on the Apple family's farm. And while gaining trust from the ones you've tricked is hard, it just might be worth it.
Chapters (2)