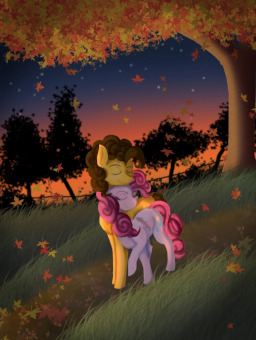 Source
Because things are the way they are, things will not stay the way they are. -Bertolt Brecht
Pinkie has always assumed life would stay the same in Ponyville. Having adventures and playing around with her friends will always be the most important part of her life. Or will it? When Cheese Sandwich returns looking for help, Pinkie discovers feelings she never knew she had. Now, she is torn between her desire to stay with Cheese and her friends. Just how will she deal with the situation?
[IMPORTANT NOTE]: This was my first story on fimfiction that I kept. It was written a long time ago, and as such is dated. Dated in writing quality, pacing, storytelling, characterization, and the list goes on. This no longer represents my current writing abilities in the least, but I have decided to keep it on the site for historic purposes and the fact that folks still enjoy reading it.
This is a slow-paced story delving into Pinkie and Cheese's life as they come to understand their love for each other and the changes it brings to their lives.
Please note that I started this story before the end of season 4. It is cannon up until about the middle of the season.

I absolutely adore Pinkie and Cheese together, and many other writers have published some great stories. I recommend The Rock Farmer's Daughter and anything by scoots2 (they're amazing). Anywho, I decided to write one of my own, but make it a larger scale, slower paced work than most Cheese-Pie stories. This was my big project, and I've expended a lot of effort making it work. I'd love to hear your thoughts and suggestions regarding improvement. A perfectionist is never satisfied.
The wonderful cover art is a commission by WitlessTheSmall Check her out her amazing work on deviantart. She is currently accepting additional commissions!
Chapters (39)