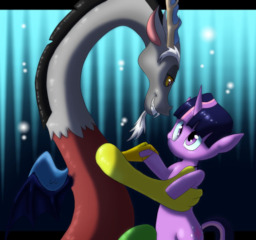 Just when Twilight's at the end of her rope, weighed down with her latest mistake, Discord pays her a surprise visit for a "dance lesson." Grudgingly she accepts and finds that there's more to be had from Discord's lesson than a simple dance routine. Sometimes it takes an intervention to see what should have been obvious from the start.
A collab with my best friend, Miranda Laufeyson. Couldn't have done it without her!
Now with an audio recording by Crafty Arts! Check it out.
---
Cover art by BlazeMizu on deviantart. Used with permission.
Chapters (1)