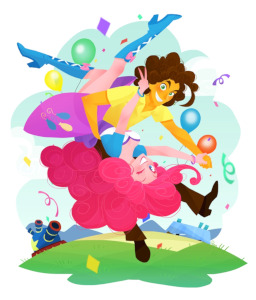 Source
NOW COMPLETE.
At last Pinkie Pie is getting her chance to run the Canterlot Cake Festival, but, to her annoyance, she isn't permitted to run it on her own. None of her four best friends can be her assistant, so she's forced to take on Cheese Sandwich, a geeky accordion-playing new student, who is both very strange and very familiar. Cupcake exploits, explosions, aunts, obscure branches of magic, swing dancing, and other typical high school hijinks ensue.
A Pinkie Pie/Cheese Sandwich story, set in the Equestria Girls universe. EG canon-compliant up to Rainbow Rocks.
CheesePie. Hoof to heart, there will not be any other ships that you do not bring yourself.
Art is a commission from Quere.
100% approved by Twilight's Library.
Chapters (15)