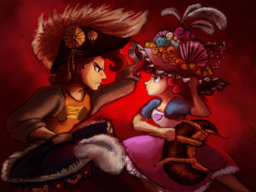 First Base takes his brother, Flash Sentry, to Luna Park. Flash hasn't been the same since the terrible events at the Fall Formal, and he's even broken up his band. If throwing baseballs at him doesn't cheer him up, maybe the arguing between one very odd couple will.
An Equestria Girls Cheese Sandwich/Pinkie Pie story. Takes place after some months after the events of Equestria Girls: canon-compliant up to Rainbow Rocks.
This is a teaser and a sort of prologue for my upcoming multi-chapter Equestria Girls CheesePie fic. See Author's Note and blog entry for further details. The art is a commission from the fabulous WhiteStar1802.
Chapters (1)